FEATURES
Think You're Neighbours Are Bad? Wait Till You See These!
By James Whittington, Friday 10th April 2015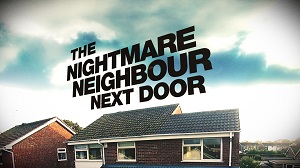 There are six million complaints about nightmare neighbours in the UK every year. The Nightmare Neighbour Next Door delves into the most extreme and extraordinary neighbour disputes, tracking down the worst offenders in a compelling portrait of modern Britain.
Most people have had their own experiences of loud dogs, noisy parties or the odd domestic dispute, but living with the nightmares next door these small irritations can become part of everyday life often for years on end. But how do you end the nightmare?
Revealing the traumatic, shocking, humorous and occasionally bizarre experiences of victims of nightmare neighbours, witness as they try to catch the perpetrators in the act and get their actions on camera.
Remember to be in for this series which starts April 22nd at 9.50pm and repeated weekends at 8.10pm.
PICK OF THE WEEK