FEATURES
The Real Rescues Team Come To CBS Reality In October
By James Whittington, Sunday 27th September 2015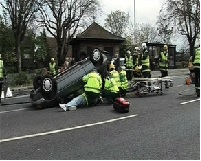 Prepare to witness real life drama at its most intense during October as the Real Rescues team come to CBS Reality.
Meet the men and women of the UK emergency services – police, fire ambulance, and of course the coastguard – the true everyday heroes we rely on when disaster strikes.
The series goes right to the heart of the action, bringing you closer than ever to the drama and bravery of their daily lives, this is Real Rescues.
Don's miss Real Rescues, weekdays 12.15pm and 7.20pm on CBS Reality from October 12th.
PICK OF THE WEEK