FEATURES
The Future Of Surgery Is Here!
By James Whittington, Monday 2nd February 2015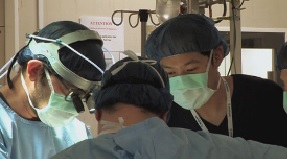 Imagine facing major surgery knowing there will be no pain, no blood, and no prolonged hospital stay. Imagine a time when surgery will heal even the unborn, when the blind will have the hope to see, and the physically disabled the chance to move freely again.
Super Surgery looks at the dramatic breakthroughs in surgery within the grasp of medicine and the promise this new world holds for every single one of us. Viewers' travel into this fascinating world of science to explore the possibilities and impact that these new procedures will have on the practice of medicine.
Brand new and unmissable Super Surgery starts March 21st at 9pm and repeated at 3.25am on CBS Reality.
PICK OF THE WEEK