FEATURES
Psychics, Cheaters And An Outspoken Judge - December On CBS Reality
By James Whittington, Monday 9th December 2013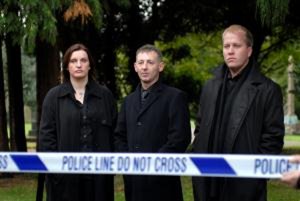 CBS Reality is as unpredictable as life; home to the good, the bad and the extraordinary and December is no exception with psychics, investigations, unfaithfulness and the world's most famous judge.
Here's a quick look at some of our presents to you this festive season.
Psychic Private Eyes – Weeknights at 9.40pm
The show that delves deep into baffling murders and unexplained disappearances using an unconventional approach, Psychic Private Eyes makes unmissable television. Colin Fry, Tony Stockwell and T.J Higgs use their psychic abilities to contact the dead and gain vital clues over their mysterious endings. The team take on the criminal cases that the police failed to solve and the media has long forgotten about in this captivating series on CBS Reality throughout December.
Unsolved Mysteries – Weeknights at 10.40pm
This compelling six-time Emmy nominated series explores intriguing mysteries that have never been explained including missing persons, unsolved crimes and perplexing paranormal phenomena. Hosted and voiced by Law and Order star Dennis Farina, over 50% of the cases featured have been solved, and more than 100 families have been reunited with missing relatives through thorough reconstructions and extensive journalism. Unsolved Mysteries is a fascinating series that will keep you on the edge of your seat.
Cheaters – Weekends at 9pm.
You can run, but you can't hide; that's the clear message sent out to unfaithful spouses and deceitful partners in juicy reality series Cheaters as illicit affairs and secret liaisons are exposed for all to see. The team of Cheaters private detectives – never ones to shy away from a unforgettable scandal – go above and beyond duty to keep an eye on their suspects. They sneak into homes and offices, plant surveillance cameras and watch as the real-life drama unfolds. Once their suspect's been caught on camera, the steamy evidence is shown to their client before a confrontation with the cheating other half ensues, often in a very public place. The sparks will most certainly fly this December!
Judge Judy - Weekends at 1.30pm
Judge Judy is renowned for her outspoken, hard-hitting, no-nonsense courtroom demeanour. Beneath her entertaining quick comebacks and witty exterior, Judge Judy's ability to cut through a dispute and get to the core of the emotional issue at hand enables her to provide guidance, direction and common sense to those whose lives have spiralled hectically out of control, and helps to bring healing to families and victims of injustice.
PICK OF THE WEEK