FEATURES
Prisons, Weight Problems, ER And Stolen Cars All This Month On CBS Reality
By James Whittington, Sunday 30th November 2014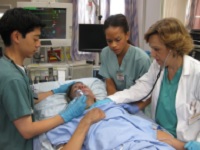 This December on CBS Reality, we meet the Prison Wives who have discovered that the path to true love is far from smooth, as they face up to the trials and tribulations of conducting a relationship with a partner who is behind bars.
Elsewhere, from the 3rd Half Ton Hospital is putting up a momentous fight against America's obesity epidemic, Untold Stories Of The ER reveals the dramatic, daunting and sometimes bizarre cases that doctors are presented with in the emergency room and, later in the month, we catch unlucky car thief opportunists in the act with new seasons of channel favourite, Bait Car.
Prison Wives
Weeknights at 9.50pm and 2.35am from 1st to 17th December
Prison Wives profiles the dramatic stories of the women who have fallen in love with a prisoner behind bars. With in-depth interviews, documentary footage and dramatic recreations, Prison Wives tells tales of crime and punishment, and love and redemption that will keep you on the edge of your seat. From sex to family fights, to the stress of working multiple jobs, to the bizarre, touching, astounding, hilarious and horrifying relationships with their prison men; this is a no-holds-barred portrait that lets you in on all of their secrets.
Half Ton Hospital
Wednesday 3rd to Friday 5th December at 6.50am, 1.05pm and 6.05pm repeated weekends at 12.40pm and 6.30pm
Saving the Supersized. Brookhaven Hospital in New York is unique: it tries to save the lives of some of the world's fattest people. Its methods are simple but controversial; a strict regime of diet and exercise, which challenges the health industry's fascination with quick fixes, fad diets, pills and surgery. Half Ton Hospital is an emotional and, at times, tragic journey mixing human stories of great achievement with medical science, as families and doctors try to stop patients from literally eating themselves to death. For those who seek treatment it's their last chance to survive an addiction every bit as devastating as alcohol or drugs. And it's a problem which isn't just limited to the US. Most countries in the developed world are seeing rapidly rising obesity rates and Half Ton Hospital provides a shocking warning of what the future may hold for them.
Untold Stories Of The ER - Season 6
Weekends at 9pm from 7th December continuing into January
Untold Stories Of The ER demonstrates the true dramatic nature of medicine practiced under pressure, where every moment can be a turning point. See how a doctor's personal blend of expertise and decision-making abilities are challenged by unpredictable circumstances - and how character makes the ultimate difference. Season 6 sees a young man who has a 2 inch pipe through his head, which must be removed quickly: a young bride is bleeding uncontrollably, mystifying her physician; a naked man falls into a cactus and is covered head-to-toe in cactus needles; and a patient brings radioactive rocks to the hospital causing chaos in the ER.
Bait Car
Weekdays at 4pm from 8th December continuing into January
Bait Car ventures inside stolen vehicles that are tactically rigged with hidden surveillance equipment and tracking devices, to capture every intense detail of car crime as it unfolds. Join police forces for brand new series filmed in America's toughest neighbourhoods as they carefully entice and catch unlucky opportunists in the act, as the cameras capture their worst behaviour, up, close and unfiltered. You've got a front row seat this December!
PICK OF THE WEEK