FEATURES
More Judge Judy And Medical Detectives During April On CBS Reality
By James Whittington, Sunday 6th April 2014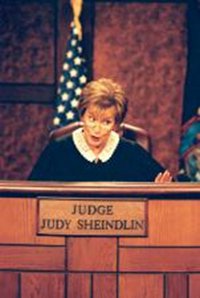 Judge Judy - Season 6
Midweek double bill at 11am, 3:10pm and 8:10pm repeated weekends as stack from 1:30pm
Judge Judy is renowned for her outspoken, hard-hitting, no-nonsense courtroom demeanour.
Beneath her entertaining quick comebacks and witty exterior, Judge Judy's ability to cut through a dispute and get to the core of the emotional issue at hand enables her to provide guidance, direction and common sense to those whose lives have spiralled hectically out of control, and helps to bring healing to families and victims of injustice.
Series 6 sees Judy on top form as a woman claims a senior citizen is suing her because she rejected his sexual advances, ex-girlfriends of a deceased man fight for ownership of his couch, a woman from Cincinnati accuses her vengeful neighbour of stealing her dog, a woman loans her brother money on the condition that he leaves his wife, and neighbours threaten to poison a family dog for damaging their living room.
Medical Detectives – Seasons 2 and 3
Midweek double bill 10:50pm and 2:35am from 15th April to 1st May repeated. Weekends double bill at 9:00pm
Medical Detectives sees true stories of notable crimes and outbreaks of disease from all over the world solved through the intricate and dedicated work of forensic investigators, coroners and examiners as they employ their specialized methods to utilize every piece of available evidence.
The series is enhanced by real life re-enactments and the stories of the people who have lived through the harrowing events that are being documented and expertly solved.
Series 2 opens with The Common Thread as ten bodies are found over 6 months in 1984 in Florida. The police discovered several similarities among these cases including red carpet fibres found on all the bodies, but only when the latest potential victim manages to escape the clutches of her kidnapper can the case begin to unfold…
Series 3 sees 11-month-old Chad Shelton admitted to an Omaha hospital because of chronic vomiting. The next day Chad went into a coma and died. Duane Johnson was also admitted to the hospital with the same symptoms. He died the next day. It is discovered that all of the sick individuals had visited the Johnson home two days previously and all signs point to a serious case of intentional poisoning. Later in the series, the bodies of many nude woman are found in the remote hills of California in the mid-1980s, but police are baffled as to who is responsible. And on September 17, 1984 nine-year-old Vicki Lynne Hoskinson left on her pink bicycle to run an errand for her mother. She never returned home, but can the medical detectives ascertain what happened?
PICK OF THE WEEK