FEATURES
Jail on CBS Reality this June
By Dave Macleod, Monday 2nd June 2014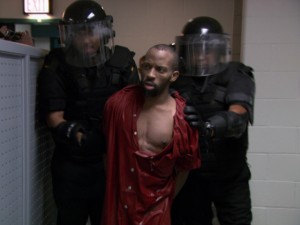 Weeknights DOUBLE BILL 9.50pm & 2.35am from 4th to 13th June
Jail highlights the daily interactions between officers and inmates in jails across the United States. The camera crews follow jail employees during their shifts in Texas, Las Vegas, California, Florida and several other facilities located around the country. Some of the various charges that the arrestees are brought in on are public intoxication, domestic violence, malicious destruction, prostitution, possession of drugs and trespassing.
The officers on duty deal with yelling, tears, physical aggression, medical issues, the mentally ill, as well as people who just don't take their arrests seriously. Fortunately for the jail employees, they have restraint chairs, spit guards, taser guns and pepper spray at their disposal to help them survive their shifts.
Jail offers a unique insight into a world that is normally hidden from view, where the stories and characters are as compelling as they are real. Series 4 opens with an elderly cross-dresser who has been arrested for menacing passengers on a city bus and brought into the Multnomah County Justice Center in Portland, Oregon. A sergeant begins to search the man who says he no longer dresses in men's clothes. He explains that he was only trying to alter a new pair of platform shoes with his knife to make them fit his feet, and was not undressing on the bus as the arresting officers had said!
Later in the series, a woman and her daughter, who have been arrested on shoplifting charges, are spending the mother's birthday inside the jail. The daughter tells officers that she is glad her mother has been arrested, and hopes that this time will be the last time for them both. The mother tells officers that she is on a drug store's worth of pain pills, and is warned that she cannot take any pills while she is there. Later, the mother has to be strip-searched when officers notice that she is taking the contraband out of her bra.
Simultaneously, a combative young woman, already placed in a spit mask and restraint chair upon her arrival at the jail, goes berserk during medical questioning.
PICK OF THE WEEK