FEATURES
Bounty Hunters, Invetigators And Justice - October On CBS Reality
By James Whittington, Saturday 27th September 2014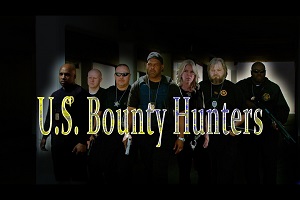 This month on CBS Reality, we take a fascinating behind the scenes look at the fast-paced and dangerous world of law enforcement. You wouldn't want to mess with the US Bounty Hunter team!
Elsewhere, The Investigator, the perfect series for armchair detectives, delves into New Zealand's most puzzling crimes from the 14th, and every weeknight Judge Judy brings her own unique brand of crime-solving to the channel, complete with no-nonsense verdicts and legendary putdowns!
US Bounty Hunters - Series 1 and 2
Weeknight double bills at 9:50pm and 2:35am from 13th to 29th October repeated weekends double bill at 9pm.
US Bounty Hunters is the fast-paced reality show that takes you inside the dramatic, high-stakes world of law enforcement, as Fugitive Recovery Agents search out some of the nation's most wanted. Agents Fred Slack, Denise the Huntress, and Benny the Teddy Bear are a team of bounty hunters who are strong and passionate about capturing the bad guys. Each episode shows real cases with real criminals and real stories. Capturing the country's most evasive bail jumpers is no easy task but the team live up to their reputation!

The Investigator - Series 1
Weeknights at 10:40pm from 14th October
An in-depth look into some of New Zealand's most puzzling crimes in recent history, investigating if there was more to each crime than meets the eye. Through interviews with investigators, witness recollections, forensic reports, crime-scene photographs, news archive footage and dramatic reconstructions, this edgy and in-depth series promises to delve into each crime with meticulous methodology, in the hope of shedding new light on the details of how each crime was committed.

Judge Judy - Series 6
Weeknight double bills at 8:10pm
Judge Judy is renowned for her outspoken, hard-hitting, no-nonsense courtroom demeanour. Beneath her entertaining quick comebacks and witty exterior, Judge Judy's ability to cut through a dispute and get to the core of the emotional issue at hand enables her to provide guidance, direction and common sense to those whose lives have spiralled hectically out of control, and helps to bring healing to families and victims of injustice.
Series 6 sees Judy on top form as a woman claims a senior citizen is suing her because she rejected his sexual advances, ex-girlfriends of a deceased man fight for ownership of his couch, a woman from Cincinnati accuses her vengeful neighbour of stealing her dog, and a sister loans her brother money on the condition that he leaves his wife!
PICK OF THE WEEK