FEATURES
Births, Deaths And Justice This January On CBS Reality
By James Whittington, Monday 5th January 2015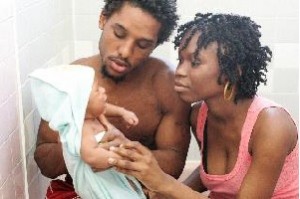 This January on CBS Reality, brand new series Birth Days explores the emotional whirlwind that is the first six weeks of a newborn's life at home with their new family – diapers, dirty dishes and all! On the 19th, we head from the maternity unit to the offices of the world's best physicians for the awe-inspiring true-life cases documented in Amazing Medical Stories, and the astonishment continues to take hold as we move down-under with eye-opening series, Outback Coroner, which explores some of the most mysterious and high-profile deaths in Australia alongside those who inspect the crime scenes.
And last but certainly not least, Judge Judy Sheindlin continues to unabashedly dish out justice with her trademark hard-hitting putdowns in the 7th series of CBS Reality favourite Judge Judy from the 26th.
Birth Days - Season 1 and 2
Weekdays double-bill at 6:50am, 1.05pm, and 6.05pm repeated at weekend from 4pm
Mind the messy diapers and dirty dishes, there's a newborn in the house! Birth Days is an emotional whirlwind of a series that tells it like it is by chronicling the non-stop adventures of parents—and their newborns—as they spend their first six weeks together. Each thirty-minute episode follows one family and explores the emotional, medical, economic and social aspects of the parenting experience. It's post-partum like you've never seen it before!
Outback Coroner
Thursdays and Fridays at 9.50pm and 2.35am from 8th to 30th January repeated weekends at 9pm and 1.10am
Outback Coroner is an observational documentary series that explores accidental and unexplained deaths in the most remote regions of Australia. This engaging and richly emotional series follows various coroners from all over Australia as they navigate time, distance, suspicion and culture, in search of answers to mysterious and unexplained deaths. Viewers are taken inside the mindset and challenges confronting the coroner and their team, who search for the missing pieces, carry out forensic investigations, conduct autopsies and counsel the bereaved. Outback Coroner takes us inside towns, remote communities, farms, camps and stations, introducing a side of outback life that has never been seen before.
Amazing Medical Stories
Weekdays at 7.40am, 2.20pm and 7.20pm and 11.30pm from 19th to 30th January repeated weekends at 7.40am and 5.40pm
Amazing Medical Stories is a reality series that follows the lives of people with rare and surprising medical afflictions and documents the remarkable medical treatments that are used to cure them. Each episode looks at five different people whose lives are in crisis until they finally find the physician who can help them. Many are near death when the solution is found. Stories range from unusual accidents - such as a man falling into a churning cement mixer or a woman's scalp being pulled off by a whirling gear - to one-of-a-kind conditions, including a woman with a 156-pound tumor, a baby born with four legs and a man covered in flesh eating bacteria. Each story begins as a medical mystery, gradually revealing the condition and symptoms until finally the right physician comes along to make a diagnostic breakthrough.
Judge Judy - Season 7
Weekdays double bill at 11.am, 3.10pm, and 8.10pm from 26th Jan continuing into next month, repeated weekends from 1.30pm
With her outspoken style, hard-hitting decisiveness and biting wit, Judge Judith Sheindlin single-handedly reinvented the courtroom genre and in the process has become a genuine pop culture phenomenon. A former New York family court judge known for her ability to cut through a dispute and get to the core of the emotional issue at hand, Judge Judy acts as a true moral compass for people seeking guidance, resolution and a little common sense in their often complicated lives. Judge Judy's goal is to make a permanent and worthwhile impression that will discourage repeat offenders and help heal families and victims of injustice. There are many imitators, but only one Judge Judy!
PICK OF THE WEEK