FEATURES
Birth Days And Brides To Be - February On CBS Reality
By James Whittington, Monday 26th January 2015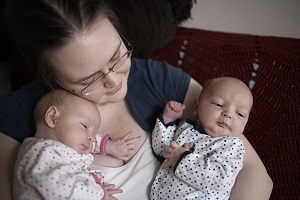 Birth Days - Season 3
Weekdays double bill at 6.50am, 1.05pm and 6.05pm from 6th to 16th repeated weekends as a stack from 4pm
Mind the messy diapers and dirty dishes, there's a newborn in the house! Birth Days is an emotional whirlwind of a series that tells it like it is by chronicling the non-stop adventures of parents—and their newborns—as they spend their first six weeks together. Each thirty-minute episode follows one family and explores the emotional, medical, economic and social aspects of the parenting experience. It's post-partum like you've never seen it before! Series 3 opens as we get to know Iso and Laura, they have a bond that seems too good to be true. They're parents of two, and there's grandma living with them too. But will a new baby undo the glue? We'll watch their ups and downs with the Birth Days team: Josey Vogels, a relationship guru, Kathy Buckworth, a real-life super mom and Dr. Irvin Wolkoff who is psyched and ready to go!
Medical Emergency - Season 2
Weekdays double bill at 7.40am, 2.20pm, 7.20pm and 10.30pm from 16th to 25th repeated weekends double bill at 6.50am, 12.40pm and 6.30pm
A real-life medical series, which follows the demanding lives of the staff at a busy hospital emergency ward. From basic wounds to life threatening surgery, viewers are invited to take an unprecedented behind-the-scenes look at how emergency staff cope under stressful situations. Medical Emergency also delves into how patients and their loved ones manage in these extraordinary circumstances. In series 2, we meet lung-transplant patient Kerrie. Her lungs have been destroyed by a virus and without a transplant she will die. In an extraordinary five-hour operation, surgeons will replace one lung at a time – and breathe life back into Kerrie's body. But she faces the constant risk that her body will reject the new organs.
Rich Bride, Poor Bride - Season 2
Weekdays at 6.50am, 1.05pm and 6.05pm from 23rd February repeated weekends as a stack at 4pm from 7th March
Rich Bride, Poor Bride explores the human drama of what it takes to pull off the "perfect" wedding while still managing to stay within your budget. It's not just a wedding show. It fuses design show qualities, reality show drama, and interesting characters to create something everyone can relate to…REAL LIFE.
Caught Red Handed - Season 1
Weeknight double bill at 9.50pm and 2.35am from 23rd continuing into March repeated weekends double bill at 8.10pm.
Dom Littlewood looks at the clever new ways that the police and the public are catching crooks red handed. The premiering episode sees a terrifying armed robbery in a jewellery shop – but the brave owners have some tricks up their sleeve that confuse the crooks. Also, a police 'capture house' operation snares burglars in the act…
PICK OF THE WEEK