FEATURES
A Series To Chill You To The Bone, Cold Blood Continues In April
By James Whittington, Saturday 26th March 2016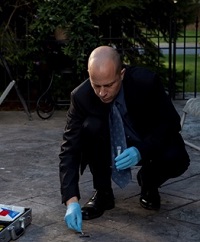 A suburban couple is carjacked and shot on their way to a Boston maternity class... A sleepy Pennsylvania town is rocked when a popular dentist is found butchered in his home... A young California woman is brutally raped and murdered while her three-year-old sleeps peacefully in the adjoining room…
A murder has been committed, and as the evidence piles up, so does the confusion. Combining the thrill of a mystery with the visceral experience of true crime drama, Cold Blood returns to the scene to present competing versions of what may have happened. And, featuring news footage, interviews, and gripping re-enactments, portrays the case from different perspectives as new evidence comes to light.
Can forensic science reveal the truth?
Don't miss Cold Blood weeknights at 9pm on CBS Reality.
PICK OF THE WEEK