FEATURES
48 Hours And Judge Judy - This February On CBS Reality
By James Whittington, Sunday 2nd February 2014
48 Hours - Seasons 18 and 19
Weeknights 9.50pm from 6th to 26th February, repeated weekends DOUBLE BILL at 9pm from 9th February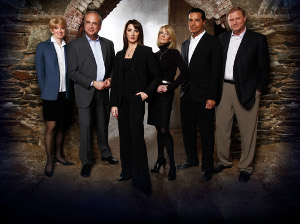 Multi-award winning 48 Hours is television's most popular true-crime series. Correspondents and investigators scrutinise every detail of shocking cases and real-life dramas that have rocked communities and gained news coverage worldwide.
Season 18 sees the shocking story of Ashley Howes. But what happened that led the 13-year-old to be charged with second-degree murder for the death of 19-month-old Freya Garden? Later in the series, a university professor disappears without a trace, leaving only her husband and lover to shed some light on the case, and a 27-year-old woman from Sacramento, California, goes to a casino to gamble by herself and then vanishes into the night. What happened to Christie Wilson?
Season 19 includes the story of a teenager entrusted with a horrific secret that could send his best friend to prison for life, the fatal and mysterious stabbing of a former successful fashion reporter remains unsolved, and a newlywed wife is shot and killed as her husband survives four bullets, but would a man shoot himself to cover up his wife's calculated murder as suspicious police suspect? Tune into CBS Reality to witness the highly anticipated answers as they unfold this February.
Judge Judy - Season 6
Weekdays 8.10pm from 10th February continuing into next month repeated as weekend stack at 1:30pm
Judge Judy is renowned for her outspoken, hard-hitting, no-nonsense courtroom demeanour.
Beneath her entertaining quick comebacks and witty exterior, Judge Judy's ability to cut through a dispute and get to the core of the emotional issue at hand enables her to provide guidance, direction and common sense to those whose lives have spiralled hectically out of control, and helps to bring healing to families and victims of injustice.
PICK OF THE WEEK