FEATURES
This January on Reality
By Dave Macleod, Monday 5th January 2015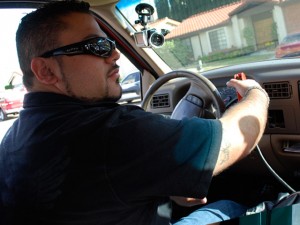 OPERATION REPO (series 7 remaining eps)
Weekdays DOUBLE BILL at 11:00, 19:00 and 23:00 from 6th to 8th January

They're back and they're still standing! Ready to track down slack owners and their goods in California's San Fernando Valley, the Operation Repo team will make it their mission to find you - if you can't flash the cash!

While most would be perturbed by turning themselves into human targets, the team laugh in the face of absurdity and danger! Get ready for scavenger hunts, an angry stripper and bolshie body-builders in these brand new episodes! Would you be brave enough to take on the rowdy repossession challenge?


BORDER SECURITY (series 6)
Weekdays DOUBLE BILL at 14:00 and 20:00 from 19th January continuing into next month repeated weekends DOUBLE BILL at 08:00 and 18:00

Border Security has unprecedented access to Australia's airports, coastal waters and mailing centres – which makes for fascinating fly-on-the wall footage capturing major drug and weapon busts, as well as the bizarre objects that people attempt to smuggle into the country.

Series 6 opens with the mysterious tale of a passenger who has had a holiday with his mates in Bali and returned with a bag full of mischief, and an investigation is underway that may prove an Irish backpacker is involved in a massive scam!


AMAZING MEDICAL STORIES
Mondays to Thursdays at 11:00, 19:00 and 23:00 from 12th to 27th January repeated weekends at 13:00 and 20:00

Amazing Medical Stories is a reality series that follows the lives of people with rare and surprising medical afflictions and documents the remarkable medical treatments that are used to cure them. Each episode looks at five different people whose lives are in crisis until they finally find the physician who can help them. Many are near death when the solution is found.

Stories range from unusual accidents - such as a man falling into a churning cement mixer or a woman's scalp being pulled off by a whirling gear - to one-of-a-kind conditions, including a woman with a 156-pound tumour, a baby born with four legs and a man covered in flesh eating bacteria. Each story begins as a medical mystery, gradually revealing the condition and symptoms until finally the right physician comes along to make a diagnostic breakthrough. Amazing Medical Stories is an inspiring celebration of the winning combination of science and human inventiveness over illness and disease.  

OUTBACK CORONER
Mondays to Thursdays 22:00 and 02:40 from 19th to 29th January  repeated weekends at 00:00

In the harshest of landscapes, these outback coroners must find answers to unexplained, unnatural or unexpected deaths to provide families with closure after the death of a loved one. Observational documentary series, Outback Coroner, follows State and Territory Coroners as they navigate time, distance, suspicion and culture in search of answers. In the most remote regions of Australia - from Alice Springs and the remote desert of Central Australia, to the tropical expanses of the North and the isolated wilderness of Tasmania - they must investigate violent and unexplained deaths. Nothing can take away the pain of losing a loved one, but knowing what happened to them is vital to helping families, friends and communities move on, and this is something the coroners know all too well.

BIRTH DAYS (series 1)
Weekdays DOUBLE BILL at 12:00 and 18:00 from 26th January continuing into next month repeated weekends as stack from 14:00

Mind the messy diapers and dirty dishes, there's a newborn in the house! Birth Days is an emotional whirlwind of a series that tells it like it is by chronicling the non-stop adventures of parents—and their newborns—as they spend their first six weeks together. Each thirty-minute episode follows one family and explores the emotional, medical, economic and social aspects of the parenting experience. It's post-partum like you've never seen it before!



RESCUE CODE ONE (series 1)
Mondays to Thursdays at 11:00, 19:00 and 23:00 from 28th January continuing into next month

Follow the life-saving work of the Westpac Rescue Helicopter crew as they tend to critically-injured patients in remote areas of New Zealand. As the busy summer season kicks in for the Code 1 helicopter crew, paramedics and emergency doctors risk their lives, as they try to save people in danger.
PICK OF THE WEEK