FEATURES
This February on Reality
By Dave Macleod, Monday 26th January 2015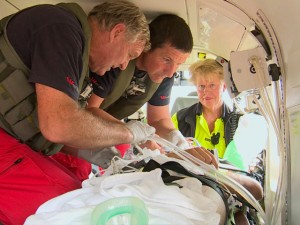 RESCUE CODE ONE (series 2)
Mondays to Thursdays at 11:00, 19:00 and 23:00 from 5th to 12th February
Follow the life-saving work of the Westpac Rescue Helicopter crew as they tend to critically-injured patients in remote areas of New Zealand. As the busy summer season kicks in for the Code 1 helicopter crew, paramedics and emergency doctors risk their lives, as they try to save people in danger.
JUDGE JUDY (series 7)
Weekdays DOUBLE BILL at 10:00 and 15:00 from 10th February continuing into next month repeated weekends DOUBLE BILL at 07:00
With her outspoken style, hard-hitting decisiveness and biting wit, multiple Emmy-nominated Judge Judith Sheindlin single-handedly reinvented the courtroom genre and in the process has become a genuine pop culture phenomenon.
A former New York family court judge known for her ability to cut through a dispute and get to the core of the emotional issue at hand, Judge Judy acts as a true moral compass for people seeking guidance, resolution and a little common sense in their often complicated lives. Judge Judy's goal is to make a permanent and worthwhile impression that will discourage repeat offenders and help heal families and victims of injustice. There are many imitators, but only one Judge Judy!
BIRTH DAYS (series 2)
Weekdays DOUBLE BILL at 12:00 and 18:00 from 12th February continuing into next month repeated weekends as stack from 14:00
Mind the messy diapers and dirty dishes, there's a newborn in the house! Birth Days is an emotional whirlwind of a series that tells it like it is by chronicling the non-stop adventures of parents—and their newborns—as they spend their first six weeks together. Each thirty-minute episode follows one family and explores the emotional, medical, economic and social aspects of the parenting experience. It's post-partum like you've never seen it before! Series 2 sees Kevin and Jenn, a young couple with a small daughter who have a lovely home and a wonderful life.  As far as they're concerned, nothing will change with the arrival of baby Jaxson…but then reality hits! We'll watch their ups and downs with the Birth Days team: Josey Vogels, a relationship guru, Kathy Buckworth, a real-life super mom and Dr. Irvin Wolkoff who is psyched and ready to go!
POSH PAWN (series 1)
Mondays to Thursdays at 11:00, 19:00 and 23:00 from 16th February continuing into next month repeated weekends at 09:00 and 17:00
Prestige Pawnbrokers are the kings of pawning luxurious and costly objects in cash-strapped Britain, and are part of a growing number of high-end pawnbrokers focusing on expensive and exclusive objects. This documentary goes behind the scenes at Prestige and discovers that, when it comes to upmarket pawn, everyone has a story to tell. Headed up by slick former property developer James Constantinou, and with a quirky team of asset experts including salt-of-the-earth jewellery expert Lawrence and feisty PA Jo, Prestige is the go-to place for people who want fast cash in well-heeled Surrey, pawning everything from million-pound helicopters to Lambourghinis and £25,000 Hermes handbags. And it's an empire on the move: James is taking big risks investing in a new store in Richmond and has bigger plans too. But will expanding make or break the business?
CAUGHT RED HANDED (series 1 and 2)
DOUBLE BILL Mondays to Thursdays at 22:00 and 02:40 from 16th February continuing into next month repeated weekends DOUBLE BILL at 00:00
Dom Littlewood looks at the clever new ways that the police and the public are catching crooks red handed. The premiering episode sees a terrifying armed robbery in a jewellery shop – but the brave owners have some tricks up their sleeve that confuse the crooks. Also, a police 'capture house' operation snares burglars in the act…
PICK OF THE WEEK