FEATURES
October on CBS Reality
By Dave Macleod, Tuesday 30th September 2014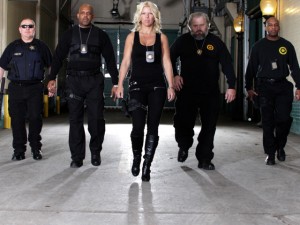 US BOUNTY HUNTERS (series 1 and 2)
Mondays to Thursdays DOUBLE BILL at 22:00 and 02:40 from 6th to 27th October repeated weekends at 01:50 from 25th October
US Bounty Hunters is the fast-paced reality show that takes you inside the dramatic, high-stakes world of law enforcement, as Fugitive Recovery Agents search out some of the nation's most wanted. Agents Fred Slack, Denise the Huntress, and Benny the Teddy Bear are a team of bounty hunters who are strong and passionate about capturing the bad guys. Each episode shows real cases with real criminals and real stories. Capturing the country's most evasive bail jumpers is no easy task but the team live up to their reputation!

DOG THE BOUNTY HUNTER (series 3 and 4)
Mondays to Thursdays DOUBLE BILL at 11:00, 19:00 and 23:00 from 13th October continuing into next month repeated weekends DOUBLE BILL at 12:00 and 18:00.
Dog The Bounty Hunter follows the adventures of Da Kine Bail Bond - the company owned and run by ex-con turned born-again Christian, Duane "Dog" Chapman and his charismatic business partner and wife, Beth. Giving an insight into their daring world as they locate and track down fugitives alongside their team of loyal family co-workers, their penchant is raw and rigorous, their family bonds heart-warming, and their personal stories as wild as they are touching, but no matter what it takes, the Chapmans will always bring in the bad guy. Series 3 sees Dog track down a Hawaiian fugitive who's been giving him the slip for three years. Elsewhere, the team witness first-hand the destructions of drug addiction, and Dog finally makes an honest woman of Beth! Series 4 opens with Dog struggling over the death of his daughter as he questions his career. Could this be the end of the bounty hunting line for Dog?
OPERATION REPO (series 5 and 7)
Weekdays DOUBLE BILL at 12:00, 18:00 and 00:00 from 1st to 23rd October repeated weekends DOUBLE BILL at 20:00.
They're back and they're still standing! Ready to track down slack owners and their goods in California's San Fernando Valley, the Operation Repo team will make it their mission to find you - if you can't flash the cash!
While most would be perturbed by turning themselves into human targets, the team laugh in the face of absurdity and danger! Get ready for movie premiere repos, a disgruntled robot mime and a Village People cover group in these brand new series! Would you be brave enough to take on the rowdy repossession challenge?
PICK OF THE WEEK