FEATURES
May Highlights on CBS Reality
By Dave Macleod, Monday 28th April 2014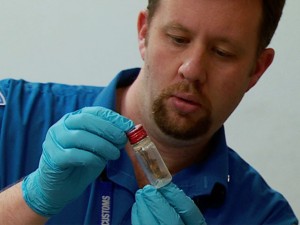 Border Security
Series 4
Weekdays DOUBLE BILL 14:00 and 19:00 from 5th to 16th May repeated weekends DOUBLE BILL at 11:00 and 19:00
Border Security has unprecedented access to all areas of Australia's national security – airports, coastal waters and mailing centres – which makes for a fascinating series of fly-on-the wall footage capturing major drugs and weapon busts, as well as the bizarre objects that people attempt to smuggle into the country.
Series 4 opens as a young Australian stone mason arrives at Melbourne airport from Colombia. Customs decide to question him due to some unusual travel movements. A frisk search turns out to be negative; however a swab of his shoes and baggage turns out to be positive for cocaine. Officers decide to send him to hospital to see if he is carrying drugs internally.
Later in the series, a New Zealand passenger arrives to visit his family who now live in Australia. But, there's a problem, he's got a criminal record. Immigration officers must decide whether he poses a threat to the Australian public and refuse entry, or if he's learnt his lesson and allow him to enter the country and be reunited with his family.
HARDCORE PAWN
Series 10 & 11
Weekdays DOUBLE BILL 12:00, 18:00 and 00:00 from 19th May continuing into next month repeated weekends DOUBLE BILL at 20:00 and 00:00
In the heart of Detroit's 8 Mile sits a record breaking pawnbrokers with a big reputation. Run by Les Gold and his children Ashley and Seth, 'American Jewelery and Loan' has been a family business for three generations. For many in the neighbourhood the store provides a regular quick cash service. No item is turned down and 40,000 'treasures' are stored within the 50,000 square foot vaults holding anything from false teeth to expensive jewellery and some strange taxidermy.
Behind every item there's a story and the best are shared here in this latest series, exclusively on CBS Reality. Even the Golds cannot predict who or what will happen next, as the sometimes shocking, always entertaining characters burst through the doors with their minds set on a deal. The Golds may have their differences when it comes to settling on a deal, but always stick together in the face of a customer meltdown and work together for the success of the store.
Series 10 sees a sweet vintage thunderbird cruise in – with a wacky owner who might just ruffle some feathers, there's a deal millions of years in the making - but another that could set the shop on fire, and with a major drop in the price of Gold, the store takes a huge financial hit. It's up to the Golds to sell, sell, sell, and make up for the loss! And the drama doesn't stop there; series 11 sees yet more wacky and wonderful customers make their way through the infamous American Jewelery and Loan doors.
In the world of Hardcore Pawn, all that glitters is most certainly Gold's!
NURSES
Series 1 & 2
Weekdays DOUBLE BILL 14:00 and 19:00 from 19th May continuing into next month repeated weekends DOUBLE BILL at 08:00, 12:00 and 18:00
From one episode to the next, you never know what is going to happen in fast-paced, fascinating series Nurses. Nurses follows medical staff on-duty in busy hospital departments as they attend to their patients. Series 1 opens with the night shift at A&E with Charge Nurse Gavin de Vine whose patients include an assaulted man and an attempted suicide. It's a busy time in the medical admissions ward – a major focal point for bed shortages, Community Midwife Jo Arkwright delivers a bouncing, bonny baby and Theatre Sister Denise Taylor scrubs up for a gynaecological operation.
Series 2 sees a high alert when a baby is reported missing on the maternity ward – but it turns out to be a baby abduction exercise, North Bristol NHS Trust in the UK being one of the only trusts to carry out such an exercise every year, in turn making its maternity unit at Southmead hospital one of the safest in the country. Three year old Theo Smith who's been deaf since three weeks old has a cochlea implant to restore his hearing, and Staff Nurse Mike Peters returns to the Emergency Department after a long spell of sick leave.
JAIL
Series 3
Monday to Thursdays DOUBLE BILL 2200 and 0240 from 26th May continuing into next month repeated weekends DOUBLE BILL at 0100
Jail highlights the daily interactions between officers and inmates in jails across the United States. The camera crews follow jail employees during their shifts in Texas, Las Vegas, California, Florida and several other facilities located around the country. Some of the various charges that the arrestees are brought in on are public intoxication, domestic violence, malicious destruction, prostitution, possession of drugs and trespassing. The officers on duty deal with yelling, tears, physical aggression, medical issues, the mentally ill, as well as people who just don't take their arrests seriously. Fortunately for the jail employees, they have restraint chairs, spit guards, taser guns and pepper spray at their disposal to help them survive their shifts.
Jail offers a unique insight into a world that is normally hidden from view, where the stories and characters are as compelling as they are real. Series 3 sees two young women sitting in the general seating area. Both have been arrested but for very different reasons.
One of the women is being charged with malicious destruction by her landlord for cutting down an olive tree that was home to a flock of pigeons which not only left their droppings but were also using the eaves of the apartment building for nesting. After numerous complaints to the landlord the woman decided to chop down the olive tree to get rid of the nasty birds.
The other woman was busted for "loitering" and tells officer Braido that she has been arrested nationwide at least 200 times for soliciting. Feeling very comfortable in who and what she is, she confides that she finds her clients on the internet.
PICK OF THE WEEK