FEATURES
March Highlights
By Dave Macleod, Monday 29th February 2016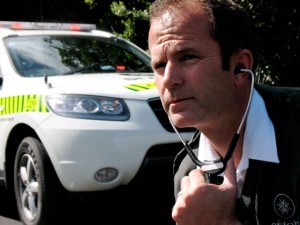 Rapid Response
Seasons 5-7
Weekday double bill at 09:55 & 17:50 from 7th March
Repeated weekends, double bill at 10:20 from 27th March
The rapid response four-wheel-drive vehicles of St John are the modern face of medical emergency call out work in Auckland. Packed with emergency medical supplies and driven by advanced paramedics, they are designed to respond and arrive on location first at major medical emergencies. This series captures life in the fast lane of medical emergency drama. Follow the rapid response advanced paramedics in their efforts to save the lives of ordinary New Zealanders in their homes, workplaces and on the streets.


Filthy Rotten Scoundrels
Season 1
Weekdays at 15:20 and 20:20 from 14th March
Repeated weekends at 17:00
"Filthy Rotten Scoundrels" is a dynamic new series that highlights the work of environment officers across the UK, as they tackle astonishing and flagrant cases of fly-tipping. The hard-working and tenacious officers often go undercover to track down criminals who dump thousands of tons of rubbish on our city streets and country lanes. Investigators call on police back-up for elaborate sting operations, and scan through hours of surveillance footage. More than 3,000 fly-tipping incidents happen each day, costing tax payers £55 million a year to clear up.
In episode 1 enforcement officers in north-west London set up an elaborate sting operation to catch a car-scrapper who has fly-posted illegally, right across the borough.
Plus, one Bristolian's outrageous fifteen-year fly-tipping spree comes to an abrupt end, when a local resident catches him in the act on camera. The scoundrel was jailed for two-and-a-half years.


The Investigator: Who Killed the Crewes?
Saturday 19th March at 22:50
Repeated Sunday 20th March at 01:20
This documentary by writer/director Bryan Bruce profiles a famous New Zealand murder case, he believes his documentary will shed new light on the event. On the night of June 17th 1970, farming couple Jeanette and Harvey Crewe were murdered in their Pukekawa home.
At two subsequent trials the juries heard how Arther Allan Thomas, motivated by jealousy, had driven through a stormy night, shot the couple with his .22 rifle, tied up their bodies with fencing wire and dumped them in a flooded Waikato River. Both juries convicted him.
Nine years later, Thomas was granted a pardon after a Royal Commission found that in order to gain his conviction, two detetctives, Detective Inspector Bruce Hutton and Detective Sergeant Len Johnston, had planted a shell case fired from Thomas's rifle in the Crewe garden, but it's an accusation that has never been tested in court.


Judge Joe Brown
Season 4
Weekday double bill at 18:40 and 22:50 from 21st March
Repeated on weekends as stack at 12:50 from 3rd April
Case after case, Judge Joe presides over the evidence and listens to both parties fairly. Once the victim and guilty party have been identified, that is when Brown comes into his own.
Whipping the court room into a frenzy, he doesn't back down from arguments, he has no time for excuses and has no problem serving up tough justice.
Dishing out his personal style of advice, he has everyone's best interest at heart, however, sometimes this isn't welcomed and Brown won't hesitate to tell people to stop 'acting cool' or 'quit acting like a thug'. Brown is frank, fair and fearless when delivering his verdicts – tune in to see who will experience the wrath of the almighty Judge Joe Brown!


The Day My Legs Stopped Working
Friday 25th March at 08:40 and 13:15
Repeated Sunday 27th March at 11:10
Paula Jones, a West Auckland mother of three, was busy preparing to leave for a new life abroad, when she was struck down by a horrible mystery illness that left her paralysed from the waist down.
Paula went from able-bodied to disabled in less than two hours.
The illness caused her once highly-organised life to unravel, leaving her angry but determined to walk again. Paula set out to discover if there was anyone in the world who could come up with a cure.
The Day My Legs Stopped Working, is a year-long account of Paula's struggle to get out of a wheelchair and back to something approaching normality. It's a journey into the world of stem cell therapy and right to the edge of current medical ethics.
PICK OF THE WEEK