FEATURES
This May on Reality
By Dave Macleod, Thursday 28th April 2016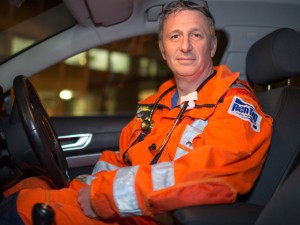 BRITCAM: Emergency on our Streets
Season 1
Weeknights at 22:50 from 2nd – 13th May
This documentary provides an un-paralleled insight into the lives of British people through the use of mobile body cameras attached to public-facing professionals including police officers and taxi drivers. In the opening episode, A&E consultant Dr. David Gaunt from Watford General Hospital attends the scene of a car crash that has left a 66-year-old woman trapped inside her vehicle, and a pair of bailiffs in Worthing collect unpaid parking fines.


EXCLUSIVE: Deal Makers
Season 1
Weekdays at 09:55 and 17:50 from 23rd May
Repeated weekends at 10:20
The UK's pawnshop scene is booming, and across the country valuable items are changing hands:  classic cars, antiques, heirlooms, rare & luxury items - the list goes on. With each valuable comes a story, and a potential fortune waiting to be made.
"Deal Makers" is an engaging and entertaining new series that taps into this thriving 'pawn economy' - showcasing the biggest and best characters within it, as well as the most unusual and bizarre objects being bought, sold and loaned against.


EXCLUSIVE: Border Patrol
Seasons 3 - 5
Weekday double bill at 15:20 and 20:20 from 10th May
This reality series gives viewers a fascinating insight into the world of New Zealand customs agents. Their aim is to prevent anything crossing the border that shouldn't. From pest plants and animals to drugs and pornography - it is their mission to stop these filtering through the country's borders. 
Watch as they inspect suspicious looking packages and discover a haul of mind-boggling items.


EXCLUSIVE: Cold Blood
Season 7
Double bill Saturdays and Sundays at 22:00 from 14th May
A murder has been committed, and as the evidence piles up, so does the confusion. Combining the thrill of a mystery with the visceral experience of true crime drama, "Cold Blood" returns to the scene to present competing versions of what may have happened.  And, featuring news footage, interviews, and gripping re-enactments, portrays the case from different perspectives as new evidence comes to light. Can forensic science reveal the truth?
Season 7 begins with twelve-year-old Polly Klass and two friends, who are having a sleepover and playing board games, when a man brandishing a knife appears at the door, ties them up, kidnaps Polly, and then disappears into the night.


EXCLUSIVE: Posh Pawn
Season 3
Weekdays at 09:55 and 17:50 from 5th – 20th May
Repeated weekends at 08:40
If you can wear it, ride it, sail it or play it – "Posh Pawn" has got it covered. Prestige Pawnbrokers, headed up by slick former property developer James Constantinou and his charismatic team deal with high end, exclusive items across three stores in London.
The world of high-end pawn broking is revealed with unprecedented access to the industry's experts and extraordinary clients. With unimaginable and hugely valuable items bursting through the doors, the series reveals that, when it comes to upmarket pawn, everyone has a story to tell.


Robbed, Raided, Reunited
Season 1
Weekday double bill from 18:40 & 22:50 from 16th – 27th May
Every minute in Britain a burglary is committed. For the victims it's a harrowing experience, and the loss of their possessions, which often have sentimental value, is devastating. This series follows the police at work and shares the heart-warming moment when people are reunited with their stolen items – everything from family heirlooms to Christmas presents stolen from under the tree.
In episode 1 we hear how police tracked down the medals of one of Britain's most decorated firemen.
PICK OF THE WEEK