FEATURES
Will You Need A Bigger Boat? Summer Of The Shark This July On CBS Reality
By James Whittington, Sunday 28th June 2015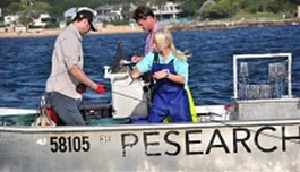 In Summer 2008 an unprecedented wave of shark attacks swept across the eastern coast of Australia and the new film Summer Of The Shark will examine this strange and frightening event.
One man left only tattered pieces of his wetsuit behind. A Navy diver lost a leg and a hand. Several surfers and swimmers were badly wounded and, as sightings mounted, shark sirens were sounded daily and beaches evacuated.
Australian shark experts and fishery managers scrambled to understand what was happening. Could it be that the gradual dwindling of the sharks' natural prey due to overfishing has brought man to the top of the shark's food chain? Will this be a prelude of things to come?
Summer Of The Shark July 17th on CBS Reality.
PICK OF THE WEEK