FEATURES
December on Reality
By Dave Macleod, Friday 1st December 2017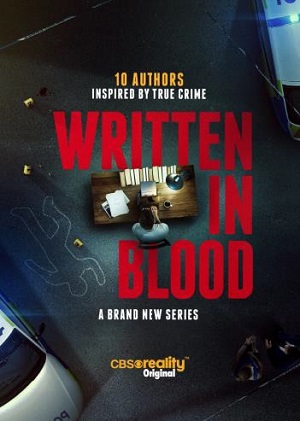 WRITTEN IN BLOOD
CBS REALITY ORIGINAL
Season 1 - PREMIERE
Weekdays at 21:10 and 01:50 from 11th to 22nd December, repeated weekends double bill at 22:00 from 17th December
"Written in Blood" brings fact and fiction together as bestselling thriller writer Simon Toyne meets fellow top crime authors to discuss how their works of fiction have been inspired by some of the UK's darkest real life crimes. Each episode delves into a different criminal case, employing reconstruction as well as interviews with the people closest to the crimes, from forensic experts to lead detectives.
JUDGE JUDY
Season 13 - Marathon
Weekends from 2nd to 31st December from 11:55 continuing into next month
With her outspoken style, hard-hitting decisiveness and biting wit, Judge Judith Sheindlin single-handedly reinvented the courtroom genre and in the process has become a genuine pop culture phenomenon. A former New York family court judge known for her ability to cut through a dispute and get to the core of the emotional issue at hand, Judge Judy acts as a true moral compass for people seeking guidance, resolution and a little common sense in their often complicated lives. Judge Judy's goal is to make a permanent and worthwhile impression that will discourage repeat offenders and help heal families and victims of injustice. There are many imitators, but only one Judge Judy!
BORDER PATROL
Season 9 - PREMIERE
Weekdays double bill at 09:55, 14:05, 22:50, and 02:40 from 18th to 22nd December, repeated weekends double bill at 08:35 and 20:20 from 30th December
Top rating series "Border Patrol" returns for an outstanding 9th series following the men, women, smart technology and clever animals working for New Zealand Customs Service, Ministry for Primary Industries and Immigration New Zealand. We follow dedicated border staff working around the clock on the frontline checking for drugs and illegal goods, intercepting packages carrying potentially harmful diseases that if infiltrated into New Zealand could cripple the economy overnight along with the monitoring, profiling and screening of incoming passengers who may be undesirable arrivals.
UNCOVERING THE DATE RAPE KILLER
CBS REALITY ORIGINAL - PREMIERE
Monday 25th December at 21:00 and 01:50, repeated Sunday 31st December at 21:10 and 01:20
A 60 minute documentary on the serial killer in London who murdered four men between 2014 and 2015. He lured his victims on a gay dating app and gave them a lethal amount of sedative drugs, yet the police refused to believe that the murders were connected. Through key witness and expert testimony, "Uncovering The Date Rape Killer" traces the killers' movements, from meeting his victims online through to his eventual capture. It explores the safety of online dating sites and how the families of the victim's continue to search for answers from the police about how the killer managed to evade detection for so long.
PICK OF THE WEEK